Fabrics (top)
We use only first quality material in the manufacture of our leisure ware and all shirts are made of 100% cotton.

Design & Style (top)
The designs are base upon medieval simple designs, but with new modern colours to give that added sense of excitement. The designs are based upon heraldic principles when what crest was upon your chest told everyone who was best! Maybe not applicable in today's modern world but these shirts still make a statement or two and get you noticed.

Salient Lions (top)
The three salient lions are a common heraldic design particularly in the northern European counties and can be traced back to the Twelfth Century. The three lions can often mean the combination of three kingdoms or royal house etc.


Rampant lion (top)

This design referrers to the single lion standing upon its rear legs and is a common design for coats of arms dating back to the twelfth century.

Fleur de' lis (top)
This design dates back to the early medieval times and at one time was common on a number of European family coats of arms.
Printing (top)
All screen printing is carried out to the highest standards, with each colour being printed separately. A photograph of this is shown below: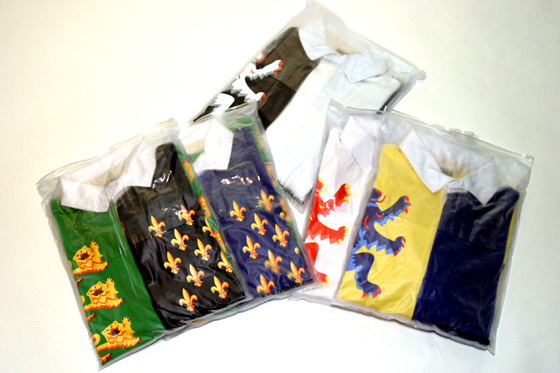 Washing & Garment Care (top)
The garment contains washing instructions for the correct cleaning of your garment. The label located within the garment contains 4 icons:
| | |
| --- | --- |
| | Wash below 30° |
| | Do not bleach |
| | Do not dry clean |
| | Iron below 30° |
With all garments the better you care for it the longer it will last.

Do not leave rolled up wet.

Colours (top)
The colours used in the manufacture of are garments are bright and exciting but please note that lighter colours will fade more quickly in the sun than darker colours.°

Packaging (top)
The leisure ware is delivered in its own fashionable plastic package. The package is reusable and has a fastener located on the top, allowing the package to be used over and over again.

Shipping (top)
Depending upon stock availability should normally be ready for shipping within 30 days. When your order is ready it will be sent to you by express courier which should be 2-3 days. A signature will be required upon delivery. Also you will be informed of the progress of your order by an e-mail.